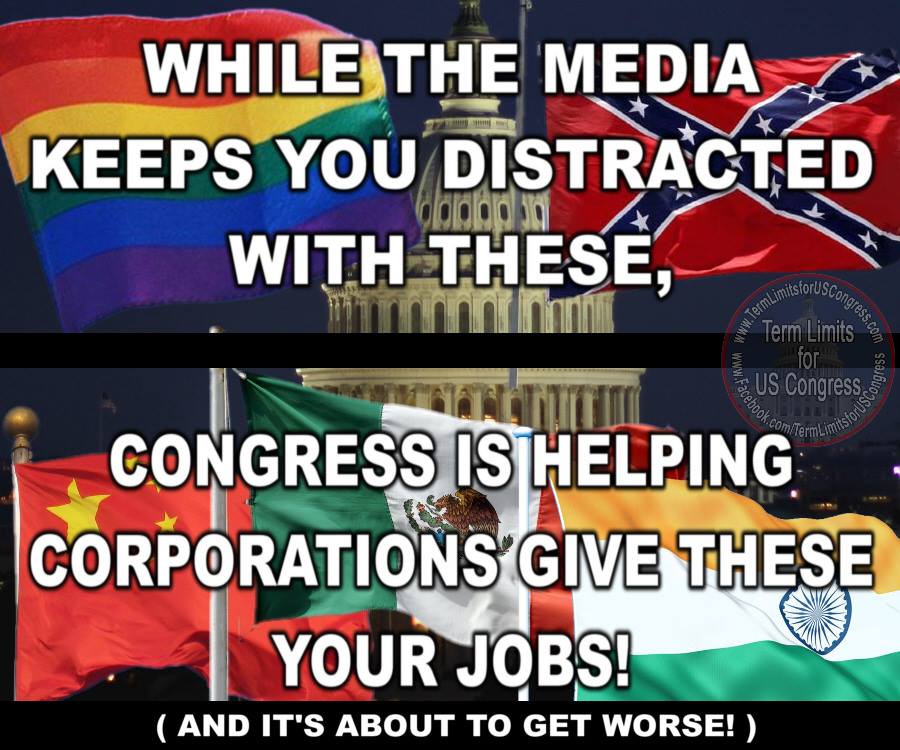 Right now the US is down 15,000,000 jobs due to Corporations offshoring jobs to foreign countries.
Some will say, "That expands the global market for corporations and that's a good thing." The problem is that increased corporate profits go into the hands of only the top 10%, who own 80 to 90% of all stocks and mutual funds.
To 80% of Americans it means 15,000,000 less jobs to keep our economy healthy and 15,000,000 Americans either unemployed or under-employed.
Some will argue that Congress shouldn't be involved in how businesses do business. But, the flip side to that coin is that Congress is being bought off to make it EASIER and MORE PROFITABLE for Corporations to offshore, which entices even more Corporations to offshore additional jobs.
Do you ever ask yourself why 80% of Americans have been falling further below the cost of living each year for the past 30 years? Here it is! You can't increase your quality of life or your income when YOU DON'T HAVE A JOB!
CONGRESS HAS BEEN BOUGHT BY EVERY MAJOR INDUSTRY! THAT'S WHY MEDICAL IS SO HOW! THAT'S WHY THERE AREN'T ANY JOBS! THAT'S WHY EVERYTHING IS SO DAMN EXPENSIVE!
IF WE DON'T SET ASIDE OUR LABELS AND STAND TOGETHER TO KICK THESE CORRUPT POLITICIANS OUT OF CONGRESS, WE'RE ONLY GOING TO CONTINUE DOWNHILL!
With the second option of Article 5, the people and the States can supersede the authority of Congress; adding a Term Limits Amendment to the Constitution; and Congress has no authority to stop it.
Become involved! Sign the petition! Volunteer to help!
E-Petition Link:
www.termlimitsforuscongress.com/e-petition.html
FAQs about Term Limits for US Congress:
https://www.facebook.com/notes/term-limits-for-us-congress/frequently-asked-questions-everything-you-could-possibly-want-to-know-about-our-/740304855991599