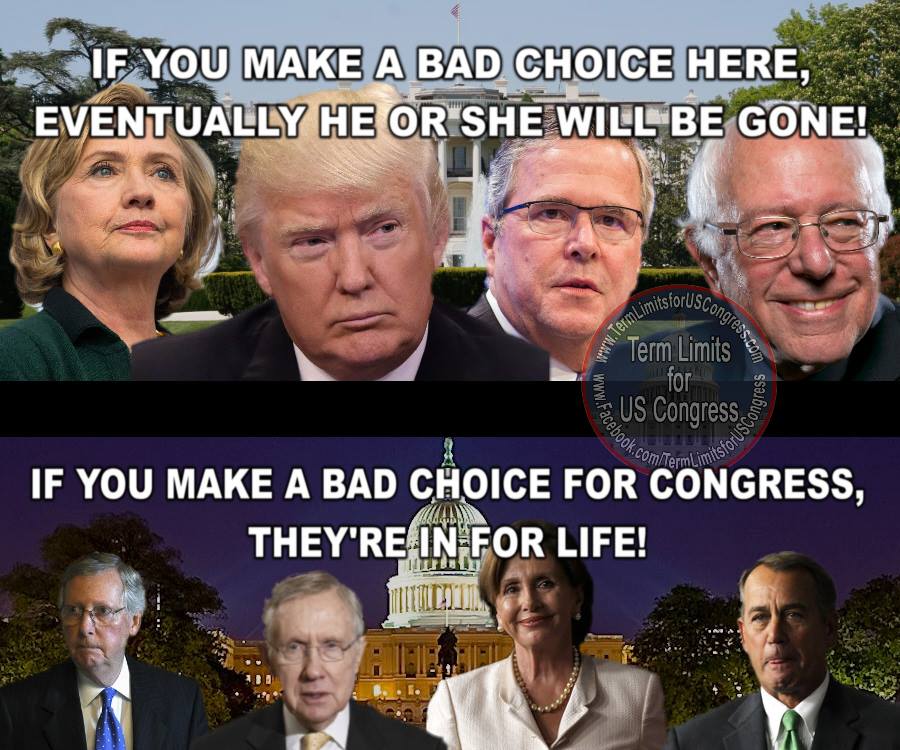 Think about it! Last year Congress had the lowest approval rating in history (9% at one point). Before the mid-terms, 60% of Americans wanted to FIRE EVERY MEMBER OF CONGRESS, even their own. But, between the mountains of money from the lobbyists and the power of the parties, 96% running for re-election WON!
No matter how corrupt, disconnected, and dysfunctional they are, once they're in Congress, you can't dig them out with a shovel. And, every year in Congress they become MORE ENTRENCHED and MORE POWERFUL!
It has to change and there's only one non-violent way left!
With the second option of Article 5, the people and the States can supersede the authority of Congress; adding a Term Limits Amendment to the Constitution; and Congress has no authority to stop it.
Become involved! Sign the petition! Volunteer to help!
E-Petition Link:
www.termlimitsforuscongress.com/e-petition.html
FAQs about Term Limits for US Congress:
https://www.facebook.com/notes/term-limits-for-us-congress/frequently-asked-questions-everything-you-could-possibly-want-to-know-about-our-/740304855991599