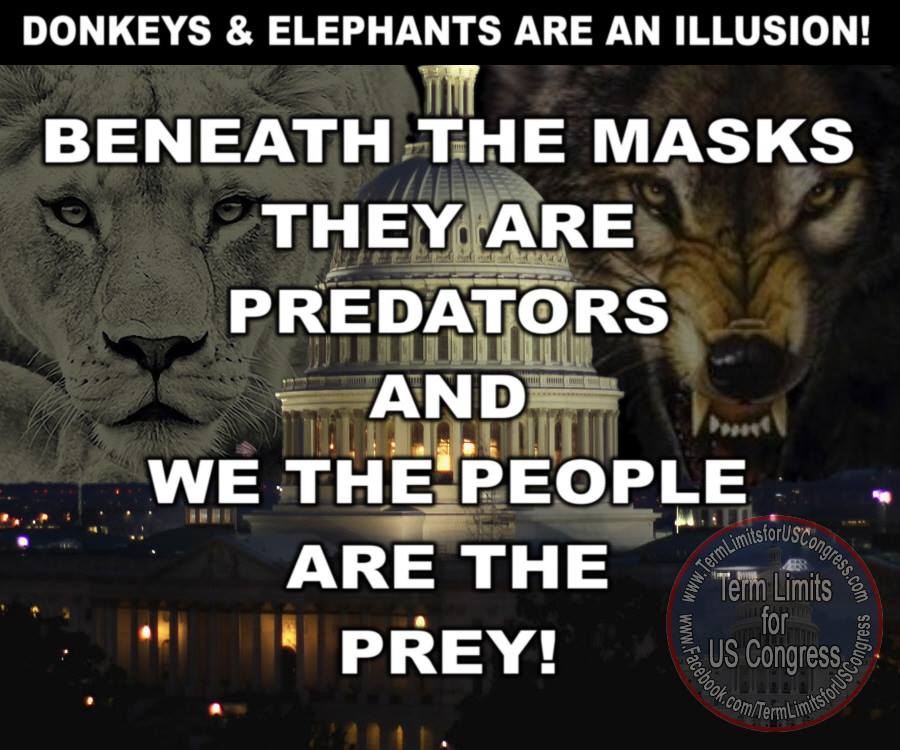 The greed for money and power is an addiction that eats away at the soul and ethics of even those who begin their time in Congress with good intentions.
In a world of overwhelming temptation, they evolve over time into predators, constantly seeking an increase in power, and between the power of the parties and the incredible amounts of money, they soon turn to We the People as their prey, knowing that the social apathy and polarized party ideologies will keep them in office regardless of their actions.
They feed off of us. They feed us to the elite in return for more power. They have created what they feel is an untouchable aristocracy, where the voice of only 1 out of 10 Americans is heard in return for money and power, while the other 9 out of 10 Americans are the flock of sheep, waiting to be devoured for their gain.
In their greed, these predators continue to drive our economy into the ground. They feed us false numbers and use the media to distract and pacify us. Yet, the data has proven that 8 out of 10 Americans are falling further below the cost of living each year and have been doing so for the past 30 years.
It has to change and it has to change now. We cannot sit quietly any longer.
With the second option of Article 5, the people and the States can supersede the authority of Congress; adding a Term Limits Amendment to the Constitution; and Congress has no authority to stop it.
Become involved! Sign the petition! Volunteer to help!
E-Petition Link:
www.termlimitsforuscongress.com/e-petition.html
FAQs about Term Limits for US Congress:
https://www.facebook.com/notes/term-limits-for-us-congress/frequently-asked-questions-everything-you-could-possibly-want-to-know-about-our-/740304855991599