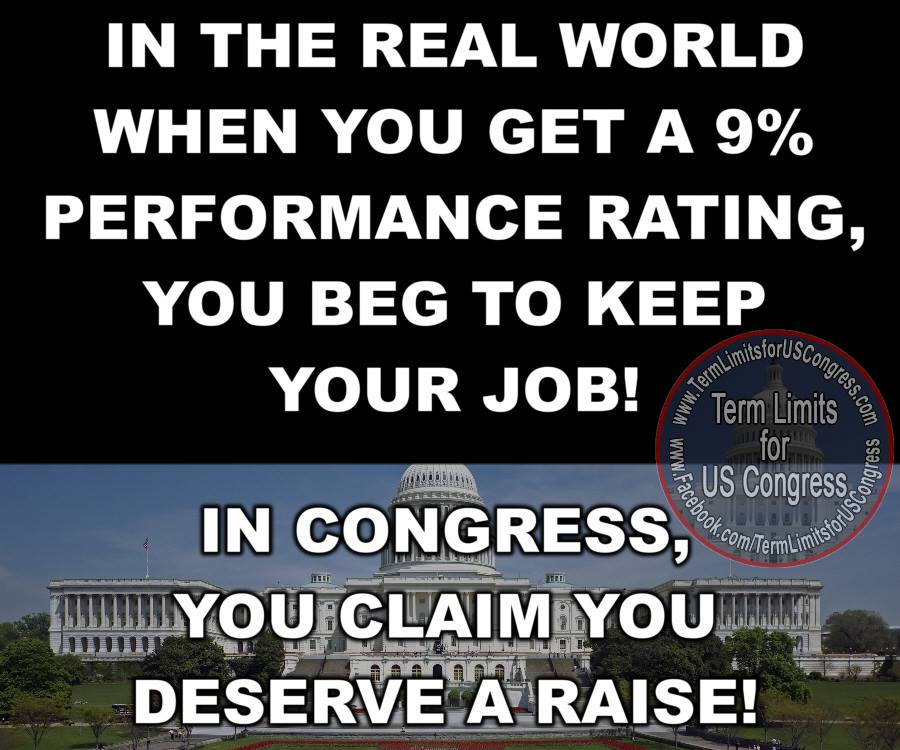 Flagrant Corruption! Disregard for Constituents! Dysfunctional! Disconnected! And, they have the audacity to claim they deserve a raise?
It's proven that 9 out of 10 Americans have NO VOICE in Congress! It's proven that 8 out of 10 Americans have been falling further below the cost of living each year for the past 30 years, REGARDLESS OF WHICH PARTY IS CONTROLLING CONGRESS!
They don't deserve the pay they are receiving, let alone an increase. What they deserve is to be fired, but they've screwed up the voting system so badly between the power of the parties and the mountains of money, that we can't even vote them out!
IT'S TIME FOR TERM LIMITS!
With the second option of Article 5, the people and the States can supersede the authority of Congress; adding a Term Limits Amendment to the Constitution; and Congress has no authority to stop it.
Become involved! Sign the petition! Volunteer to help!
E-Petition Link:
www.termlimitsforuscongress.com/e-petition.html
FAQs about Term Limits for US Congress:
https://www.facebook.com/notes/term-limits-for-us-congress/frequently-asked-questions-everything-you-could-possibly-want-to-know-about-our-/740304855991599