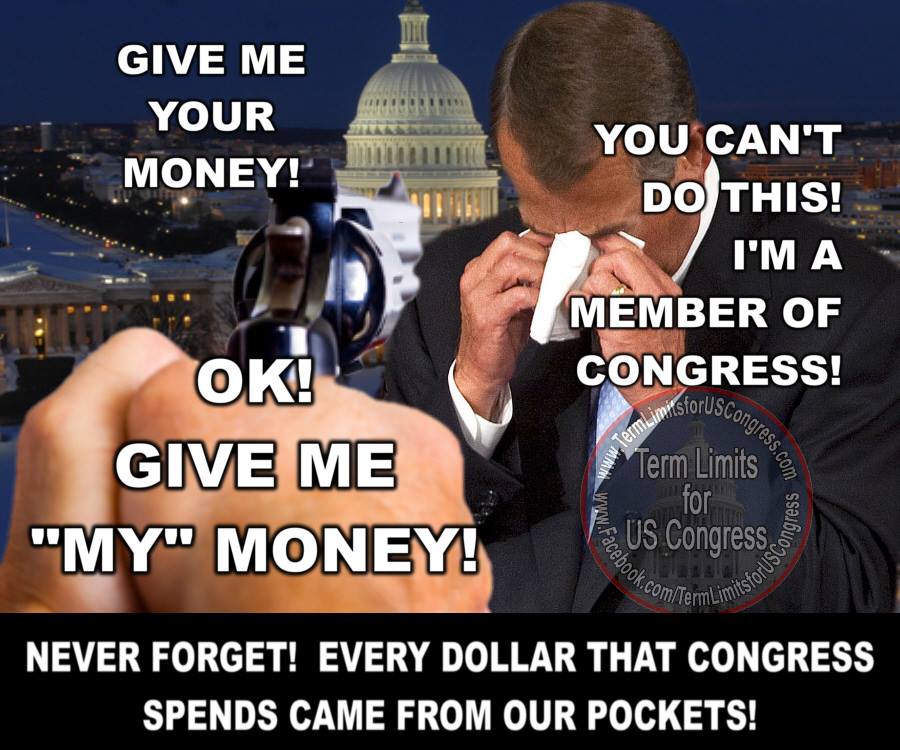 Congress has become a den of thieves; a new world mafia. Think about it! They force us under threat to hand over our hard-earned income and they turn around and award contracts to friends, family, and the lobbyists who spend $3,200,000,000 annually. They give our money to other countries while so many Americans are unemployed or under-employed.
They use our money as if it's their own and they use not to benefit our nation and ourselves, but as a tool to build their kingdoms, their power, and their fortunes!
It's time that we changed how Congress works or in many cases, doesn't work! It's time that we cut the heads from the two-headed snake! Seniority equals authority in Congress! The senior/most powerful members of Congress decide how the parties vote. WE CAN ELIMINATE THE 227 MOST SENIOR MEMBERS IN ONE STROKE!
With the second option of Article 5, the people and the States can supersede the authority of Congress; adding a Term Limits Amendment to the Constitution; and Congress has no authority to stop it.
Become involved! Sign the petition! Volunteer to help!
E-Petition Link:
www.termlimitsforuscongress.com/e-petition.html
FAQs about Term Limits for US Congress:
https://www.facebook.com/notes/term-limits-for-us-congress/frequently-asked-questions-everything-you-could-possibly-want-to-know-about-our-/740304855991599