Term Limits for US Congress
National and State Leadership Profiles
When encountering a Grassroots Movement for the first time, people often wish to know who the individuals are who are leading the Movement and why, before they become involved. At Term Limits for US Congress we want you to know that those leading are no different than you. We are average Americans that have stepped forward to fix our dysfunctional government.
---
Bob Reid
Founder, Executive Director, Chairman of Advisory Board
​Term Limits for US Congress PAC
​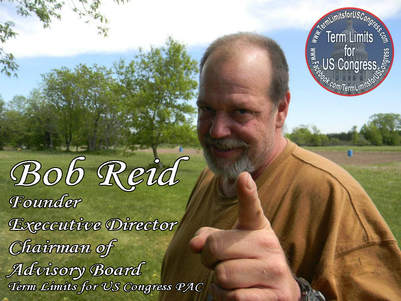 My name is Bob Reid.
I used to be a senior engineer and manager for one of the top five aerospace corporations until developing epilepsy as an adult. For a number of years the seizures were controlled through medications until the meds quit working about 12 years ago.
I am now disabled and live on a small ranch in Northern Michigan with my wife, who was born and raised in this area.
A few years ago my wife talked me into joining FaceBook as a means to stay in contact with my family out in California. After being on FaceBook for a while I realized that this wasn't "just" a social program, but was in a fact a FREE large-scale interwoven communications network reaching a significant portion of the country.
At that point I realized that I was facing an incredible opportunity. While unemployable because of my seizures, my mind still works pretty well, although my wife might argue that at times... LOL
While in aerospace I had discovered and on many occasions, been commended for, my ability to understand conceptually large-scale, high-impact issues, break said issues into functional components, and determine more effective and often creative ways to solve the issues.
Here was a chance for me to use those skills, researching and writing articles.
When I first started out, my focus was on our dysfunctional, partisan government. As time went on, I became involved in other hot topics such as Obamacare, Gun Control, Immigration, etc. But, each time I worked on an issue it always seemed to come back to either being caused by Congress, being unresolved due to Congress, or being handled ineffectively because of Congress.
The obvious answer to this unrepresentative government was to vote them out, but it wasn't happening. The more I researched, the more obvious it became. Between the power of the two parties; their polarized ideologies; and the mountains of money from lobbyists funding their campaigns; no one stood a chance against them in the elections once they had a seat in Congress.
Not only were we unable to vote them out, but over
$3.2
billion was being spent annually influencing everything Congress touched and with the seniority equals authority rule in Congress, those who had been in bed with the lobbyists the longest were deciding how the entire parties would vote on each issue!
So many changes need to be made in Congress, but none of these changes will happen while the senior/most powerful members, who have been in bed with the lobbyists the longest, hold the reins.
It struck me that it is well past time for Term Limits if we wish to bring a stop to the continuing downward spiral of America. They won't stop all the corruption in DC, but they are the first and most necessary step to bringing the US Congress back to a representative body.
There will always be hot topics that keep us divided and weak, but on this one issue, we can all agree that the corruption, cronyism, and disconnect in the US Congress needs to be stopped.
On this one issue let us set aside our differences. We are not Republicans, Democrats, Green Party, Tea Party, Conservative, Progressive, or any other affiliation. On this one issue we are ALL Americans.
Why me?
It needed to be done.
There are so many millions of us that want to see this happen, but we all have been waiting for the opportunity to "join" an effort. No one was stepping forward to "start" the effort.
Even the most monumental and daunting journeys begin with a single step and I realized that someone had to take that step.
I took that step hoping that others would see and follow.
So now you have it. I'm just another person like each of you.
Bob
---
---
Dale Greywolf
National Director, Executive Board Member
Term Limits for US Congress PAC

Dale Greywolf, who are you?

I am a North American Mutt. My ancestors were kicked out of Europe and then mingled with the Native Americans upon hitting the shores of the New World. You won't find a pedigree on me anywhere.

I am a product of Public Education. Public schools led me to attend a public university and secure a job away from the family farm. Because of that, doors were opened to opportunities and meeting people I never dreamed I would. From reporting directly to the First Man on the Moon, Neil Armstrong, to helping solve problems in the Sound Studio of Star Wars fame Lucas Film, public education prepared me for that and for the role I am playing with Term Limits for US Congress.

I am a Small Business Owner & Farmer. Raised on a poultry & cattle farm in the heart of the Shenandoah Valley, I left the farm to explore the world. Then, after literally living the jet-set life, I returned to my roots. In many ways my life has come full circle.

I am a proud Father. Both my children are in college, one at James Madison University and the other at William & Mary. I am humbled and blessed to be given such gifts as my children.

I am married to someone I love who has been there for me, and has stuck with me through the worst times of my life.

Why are you involved with Term Limits for US Congress?

Having bought a small, construction related manufacturing business just before the economy tanked, there have been long periods where Jeff and I could not even pay ourselves any wage let alone minimum wage. In order to keep from declaring bankruptcy (not an option for me), I've had to sell all my rental property, stock, nice cars, and pretty much everything else worth any value. All non-essential services/expenses were eliminated. I had to cash in my retirement and forgo the luxury of health insurance, doctor and dental visits. The TV was thrown in the dumpster. For a time we lived with no running water or indoor plumbing. We lived off the land. We had to... but we've survived the Great Recession and our business is once again growing.

Funny thing is, after essentially moving our lifestyle "back in time," we began to realize just how rich that simple living can be... Rich with family, friends, and experiences. And, it gave me time to observe life... and think.

I saw Wall Street, Banks, and Businesses "Too Big to Fail" bailed out. I sat on the small business sidelines and watched as Main Street was ignored by our US Congress. It is my understanding that not a single small business in the Shenandoah Valley qualified for the "assistance" touted at the time because of the combination of carefully written conditions and requirements. I've often wondered, where did those funds go?

I've watched our "Leaders" in Washington lead us from one crisis to the next... keeping the economy in a turmoil... blaming each other... blaming the hardworking citizen...all the while lining their own pockets and furthering their political careers by representing the highest bidder rather than the best interest of the average citizen or their state.

I've watched our Leaders purposefully stir hate to divide us as a nation and distract our attention.

I've watched as they've allowed companies move thousands and thousands of good paying American jobs to other countries so they can pay less on labor to increase profits for a few.

I've watched our US Congress break treaties with The Native People of America, even taking their sacred lands and giving them to foreign companies to strip mine for ungodly profits.

I've watched our US Congress pass legislation to benefit a few at the expense of many.

I've watched our US Congress tweak the voting system to their advantage so much so that they can now stay in office for their entire life... reaping power and personal wealth at our expense.

I've watched our US Congress pass unjust legislation our Law Enforcement Officers have to enforce, increasingly putting them into no-win situations resulting in the undermining of their public confidence and image.

I've watched our US Congress drain funds our Senior Citizens have worked their entire lives to earn.

I've watched our US Congress decimate the Middle Class and increase the hardships of the poor.

I've watched our US Congress undermine safety nets meant to carry us through hard times.

I've watched our US Congress sell out our Veterans who fought wars for them.

I've watched our US Congress pass legislation penned for them by their donors.

I've watched our US Congress pass legislation they've never read.

I thought if I were given one wish, and could make just one change to our Government that would have the greatest impact, what would that be? My research kept pointing back to limiting the time one can serve in US Congress... limit the time they can amass too much power... limit the time they can do damage.

Finally, I said somebody needs to do something before it's too late! Then I realized that if everyone took that attitude without doing anything themselves, nothing would happen. Nothing would change. So I decided to do something. I stepped forward and volunteered with Term Limits for US Congress, PAC.

We need your help. Together, we will succeed. Together, we will turn the focus of our Government back to where it should be... The People and The States.

Send us an email or PM on our Facebook page to find out how you can help.

With Best Regards,

Dale Greywolf
Term Limits for US Congress, PAC
National Director
---
---
Victoria Steele
Assistant National Director
Term Limits for US Congress PAC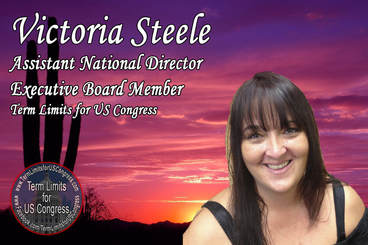 Many people have asked us who is behind this movement. They want to know that we are real people, that we are not playing a game here, that we are committed to results. I am basically a very private person, however; we are taking on a history making task, and as such I cannot continue to remain anonymous. So, it is time for me to step out from behind my keyboard and let you know who is pushing this grassroots movement forward.

I am the Assistant National Director of the Term Limits for US Congress Grassroots movement.

Let me start by saying, I, like many of you, have spent much of my life completely oblivious to politics. I never connected what was happening in Washington DC with myself. It was all so distant. I knew all the "on paper" basics of how the government worked, and I have voted in every election since I turned 18, however; it has only been in the last 3 or 4 years that I have really become awake to just how much the decisions made in DC affect me and my family.

I am a widowed mother of three children. Two of my children have special needs, so most of their lives my entire focus has been on helping them have the brightest future possible in their lives. About three years ago my health declined to the point where I was classified disabled. To keep myself busy and keep my mind from going to soft, since I could no longer work in the field of my education, I started helping administrate Facebook pages. It was something to do while my children were at school, and after they had gone to bed.

Not long after I started administrating on Facebook, Bob, the founder of Term Limits for US Congress PAC, and I met when he would share his informational memes with the pages I admin'd on. This was before his focus turned to Article 5 and Term Limits. Not long after he started focusing on Term Limits, I came on just to help him manage all the comments on the page. I knew at that time that Congress was the root of most of our problems, but really did not know much about how their extensive time in office was helping to destroy our once strong nation. The more I have learned, the more passionate I have become. Today I am the Assistant National Director of this Grassroots movement. Basically, I do most of the "mundane" stuff so Dale, our National Director, can focus on the more executive level tasks of running this movement.

I have spent my entire working life working with people. I am a health care administrator by education and have almost completed my Master's degree in the same, with a focus on information systems. I have a passion for helping people, for "fixing" what is broken. That is why I am here.

I have no doubt that the first step in fixing the problems in DC is term limits! We MUST break the aristocratic base that has formed in Congress. The only way to do this is through the use of Article 5 to enact term limits on Congress without their approval or involvement (because we ALL know that they are NOT going to like this!).

Finally, the core of everything I do in my life is my children. I do this to leave them the chance at a brighter future.
~Vicky
---
---
Curtis Judge
Treasurer
​Term Limits for US Congress PAC
​I am very happy to join the Term Limits PAC organization in the position of treasurer. Hopefully, through joint effort, we can accomplish the long needed change in Washington, D.C. The need to remove the entrenched career politicians has never been more apparent than it is currently. Simply voting is not working, and the constitutional amendment must be passed to ensure a quality future for the coming generations.
My wife Mary and I live in the scenic Shenandoah Valley of western Virginia. We have two grown sons and three grandchildren who live in other parts of the country. We just celebrated our 44th anniversary in February of this year.
My formative years were spent in North Carolina, living in Winston Salem. I graduated from N.C. State University in 1972 with a degree in Experimental Psychology and a minor in Product Design. Most of my working career was spent in the construction and electric utility industries where I held a number of regional and national management positions. I also developed and operated my own business for a number of years and fully understand the obstacles to success put in place by our bureaucratic government. My retirement from the work a day world took place in 2009. My hobbies include sports car racing, gardening and my iris and day lilly flower collections.
I look forward to working with everyone to effect change in our governmental system.
Curt Judge

---
---
Greg Lloyd
New Jersey State Leader
Term Limits for US Congress PAC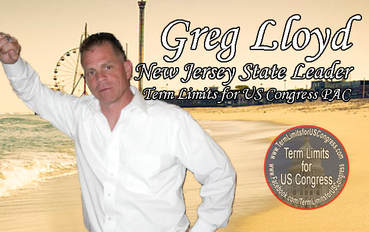 Hello,
My name is Greg Lloyd and I am proud to step up as state lead for NJ. I was born and lived my life here in Jersey and love this state as does my family. Especially the Jersey Shore!
For the last 11 years I have worked and managed our family business. We have a used car lot in Monmouth County. I also worked in NY city for 10 years managing a service team for a major office products company. I am married and have 4 children, all of which I am so proud of, and the main reason I feel I have to do something to show them it is important not to just complain, but take action.
I have always been into politics. Kind of a hobby of mine, but seeing what is going on with our country, I feel I can no longer just be a spectator. I hope you will join us in this most important effort and start ridding the US Congress of career politicians who no longer serve their constituents, but only themselves. This is important for my children, your children, and their children. If not our generation, then whose?
New Jersey Facebook Page
---
---
Wendy Bernhard
Pennsylvania State Leader
Term Limits for US Congress PAC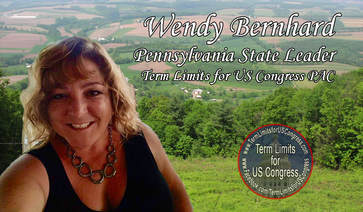 Hello my name is Wendy Bernhard, state leader for Pennsylvania.
I was born and raised in PA. My career is in construction as a 542 operating engineer, for the last 14 years.
The story my mother loves to tell of me is when I was about four years old . She came out to our driveway and I was sitting there taking my big wheel apart to see how it worked. I have continued this thirst for knowledge of how things work throughout my life .
I had asked my mom for advise and that is a story she has always told. I think it speaks to my integrity of breaking things down and seeing how they work and putting it back together again. This is how I have been since I can remember.
I am outraged by this run away government imposing laws which they don't abide by or exclude themselves entirely from. The outrageous corruption and disregard of The American people is unconstitutional.
When I first heard of Term Limits for US Congress, my pulse quickened. I had no idea we had the power to amend the Constitution, that it was an option provided in Article 5. Everyone knows the US Congress won't impose term limits on themselves. They have forgotten what the real world is like and I intend to send them back to it along with my fellow Pennsylvanians.
Join me, join us as; we are all together in this.
We are not Democrats, we are not Republicans, we are Americans banding together to make a better future.
Pennsylvania Facebook Page
---
---